Lesson 5
Key Sentences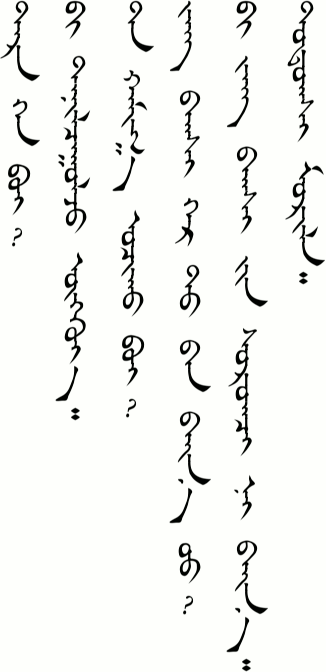 | | | |
| --- | --- | --- |
| tər xən be? | Who is he/she? | |
| biː tænə̌lʧʊːlʤ ogjəː | Let me give an introduction. | |
| tɑː xɑː ɔʧə̌x be? | Where are you going? | |
| ʤɑŋ bɑgʃ gər təːn bæːn ʊː? | Is Teacher Zhang at home? | |
| biː ʤɑŋ bɑgʃ iːn sʊrə̌gʧ n bæːnɑː | I'm Teacher Zhang's student. | |
| dɔtə̌gʃ mœrə̌l | Come in. | |
Dialogs
One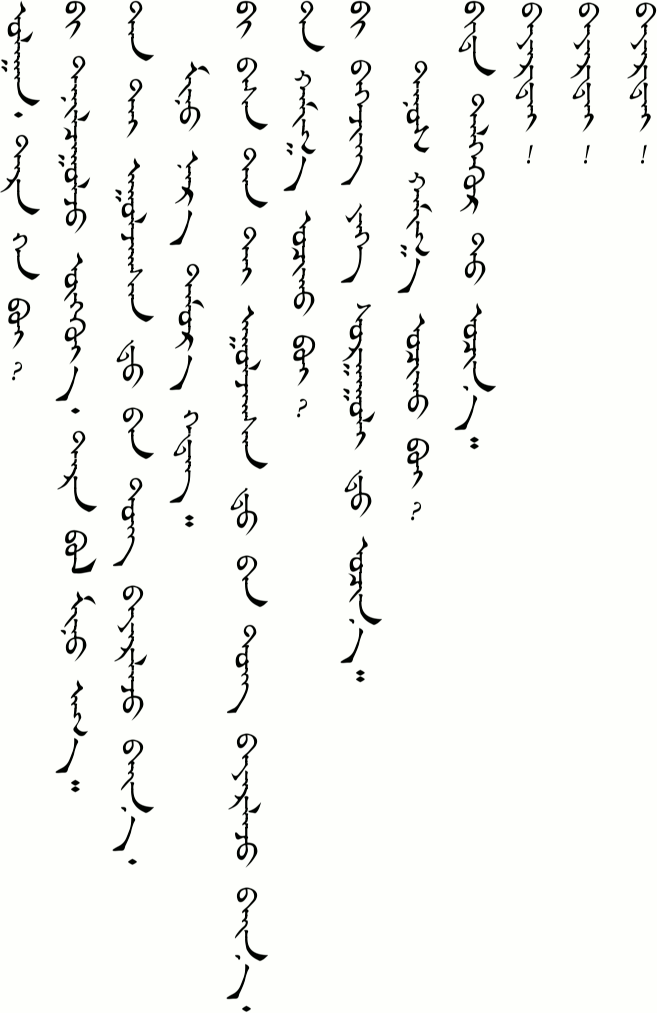 A:  ʊlɑːn    tər xən be?
B:  biː tænə̌lʧʊːlʤ ogjəː    tər bɔl miniː ɑx
C:  tɑːntæː ʊːlʤsə̌n dɑːn tɔŋ bɑjə̌rlʤ bæːn    miniː nər tomə̌rəː gədə̌gəː
A:  biː bɑs tɑːntæː ʊːlʤsə̌n dɑːn tɔŋ bɑjə̌rlʤ bæːnɑː
C:  tɑː xɑː ɔʧə̌x be?
A:  biː bəːʤiŋ jix sʊrgʊːlt ɔʧnɔː    tɑːnʊːs xɑː ɔʧə̌x be?
C:  biːd dəlguːrt ɔʧnɔː
A:  bɑjirtæː
C:  bɑjirtæː
B:  bɑjirtæː
Two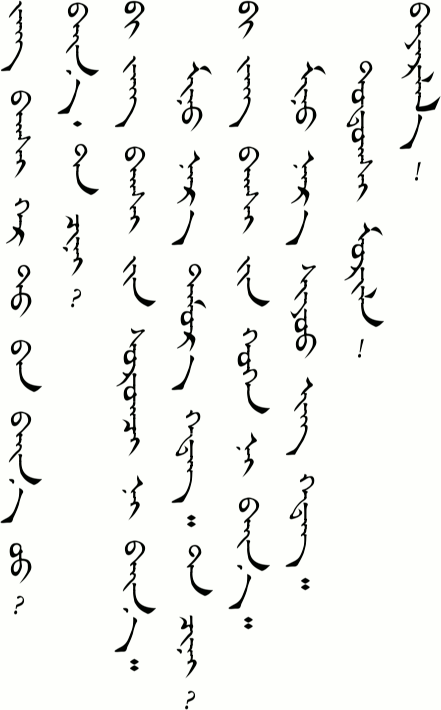 A:  ʤɑŋ bɑgʃ gər təːn bæːn ʊː?
B:  bæːnɑː    tɑː ʧin?
A:  biː ʤɑŋ bɑgʃ iːn sʊrə̌gʧ in bæːnɑː    miniː nər tomə̌rəː gədə̌gəː    tɑː ʧin?
B:  biː ʤɑŋ bɑgʃ iːn xuːxə̌n bæːnɑː    miniː nər ʃiɑʊjiŋ gədə̌gəː    dɔtə̌gʃɔː mœrə̌l
A:  bɑjə̌rllɑː
Notes
I try to write the dialogs in IPA based on either the dictionary pronunciation or how I hear our teachers speaking. Usually these are the same, but sometimes they differ. The word /dɔtə̌gʃ/ is one such example. It means "towards the interior". In the two times we have seen it so far this lesson, the pronunciation has been different and neither one seems to be the same as the dictionary's IPA rendering. I can't hear the /g/, for example. I don't think this is because our teachers are saying it wrong. Rather, they are showing the way some sounds get dropped or changed in spoken Mongolian. This happens a lot in English, too. Think about the sentence "What do you want to do?" and how it is frequently said /wə də jə wɑnə du?/. At any rate, don't base your pronunciation on what is written here; try to mimic our teachers as best you can.
/tɑː ʧin?/ means "And you?"
/ʃiɑʊjiŋ/ is the Mongolian pronunciation of a Chinese name. Many Mongolians in Inner Mongolia have Chinese names. This is especially prevalent in areas like Tongliao, which have been more heavily influenced by Chinese culture.
Substitution
One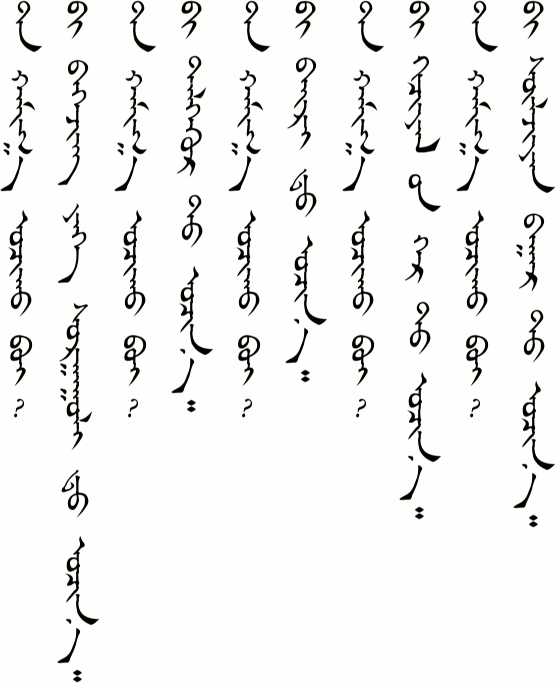 A:  tɑː xɑː ɔʧə̌x be?
B:  biː ________t ɔʧnɔː
bəːʤiŋ jix sʊrgʊːl
dəlguːr
bæːr
xəʧəːl iːn ger
sulʤəːn bɑːr
Two

_______ gər təːn bæːn ʊː?
ʤɑŋ bɑgʃ
tɑnæː ɑːb
tɑnæː əːʤ
tɑnæː œxə̌n duː
Notes:
We will talk more about the /t/ in the grammar section below.
/bæːn/ is a very multi-purpose verb in Mongolian and is used in many situations, as you have already seen. It can mean "to have" or "to be"
Expansion
One

A:  tɑː dəlguːrt ɔʧn ʊː?
B:  biː ɔʧə̌x gue    biː gər təːn xæːrnɑː
A:  ʊlɑːn bæːr tɑːn bæn u?
B:  bæːx gue    tər gʊrbə̌n ʤʊː bogoːd xɔjə̌rdʊgɑːr xəʧəːl iːn gərt bæːnɑː
Notes:
As we have seen before, adding /ugue/ or /gue/ to the end of a verb makes to negative.
/bogoːd/ means "and". It is used in numbers that have zeros in them. We should probably have a lesson about this some time. Here the meaning is "classroom number 302".
Vocabulary
| | | |
| --- | --- | --- |
| tænə̌lʧʊːl- | | to introduce |
| og- | | to give |
| xɑː | | where |
| ʤɑŋ | | Zhang 张 (a common Chinese family name) |
| gər | | home |
| təːn, tɑːn | | grammar particle (signifying location and belonging) |
| dɔtə̌gʃ mœrə̌l | | Come in |
| ʊlɑːn | | Ulaan (a common girl's name meaning red) |
| tomə̌rəː | | Temur (a common boy's name meaning iron) |
| tɔŋ | | very |
| bəːʤiŋ | | Beijing |
| sʊrgʊːl | | school |
| jix sʊrgʊːl | | university |
| dəlguːr | | store |
| bæːr | | dormitory |
| xuːxə̌n | | daughter, girl |
| ʃiɑʊjiŋ | | Xiaoying 小英 (a Chinese name) |
| xəʧəːl iːn ger | | classroom |
| sulʤəːn bɑːr | | internet cafe |
| xær- | | to return, to go back |
| bogoːd | | and |
Grammar
Location
English uses prepositions like "in" and "at" to express location. These are placed before the noun. However, Mongolian puts its location word after the noun. In spoken Mongolian this is just at /t/ sound added to the end of a noun. In written Mongolian, though, it is a separate word.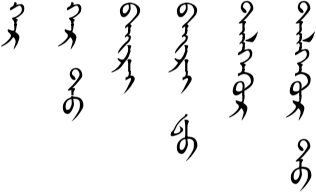 | | |
| --- | --- |
| home | gər |
| at home | gərt |
| dorm | bæːr |
| in the dorm | bært |
| store | dəlguːr |
| to the store | dəlguːrt |
This same /t/ sound in Mongolian can also express direction and would be translated as "to" in English. It just depends on the context.
| | |
| --- | --- |
| I'm at the store. | biː dəlguːrt bæːnɑː |
| I'm going to the store. | biː dəlguːrt ɔʧnɔː |
Belonging
Two other grammar words that we saw this lesson were /təːn/ and /tɑːn/. There are actually the same word, but are just pronounced differently because of the words that they follow. /təːn/ is actually a combination of two different Mongolian words: /t/ +  /ɑːn/. The /t/ is the location or direction particle that we just talked about. The /ɑːn/ (or /əːn/) shows that the preceding noun belongs to the subject. (I think. This is how I understand it so far anyway.) Let's look at some examples:

| | |
| --- | --- |
| Is Ulaan in the dorm? | ʊlɑːn bæːrt bæn u? |
| Is Ulaan in her dorm? | ʊlɑːn bæːr tɑːn bæn u? |
| Is Mr. going to the house? | ʤɑŋ bɑgʃ gərt ɔʧn ʊː? |
| Is Mr. going to his home? | ʤɑŋ bɑgʃ gər təːn ɔʧn ʊː? |
It seems like there are are lot of words and ways to express belonging in Mongolian. I'm sure it will make more sense the more we interact with it.
Practice
How do you say the following words:
introduce
where
home
very
Beijing University
store
dormitory
classroom
internet cafe
return
How do you say the following sentences:
Come in.
Let me give an introduction.
Where are you going?
Who is she?
Who are you?
Is Ulaan at home?
I'm Teacher Zhang's student.
I'm going to the internet cafe.
I'm going home.
Temur is in his dorm.
Review by saying the following:
How are you?
How are your parents?
Today is August 15th, 1981.
Thank you.
Is your work busy?
What is your name?
Nice to meet you.
If you were able to say most of these things correctly then you are ready to go on to lesson six. If not, then keep practicing! You can also download the audio for the whole lesson so that you can practice listening while climbing a mountain. Just right-click the link below and choose "Save Link As…" to download.
Lesson 5



If you have any questions about this lesson or if you notice a mistake, then please leave a comment below. If I don't know the answer myself, then I will ask our teachers.