Lesson 11
Key Sentences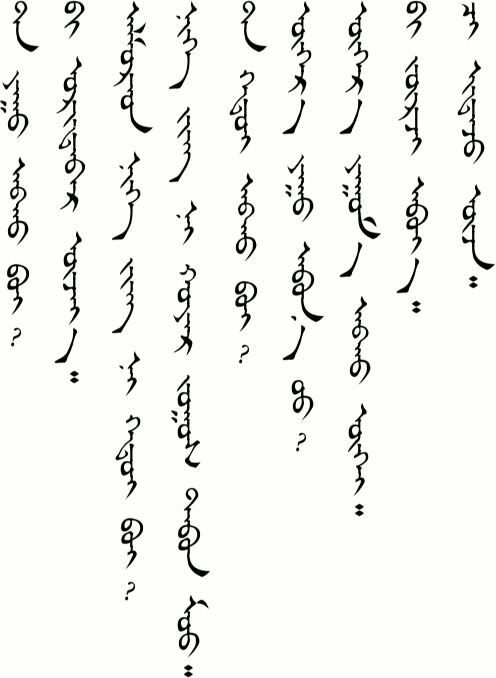 | | | |
| --- | --- | --- |
| tɑː yuː ɑbə̌x be? | What would you like to buy? | |
| biː ʊrdɑːr uʤjəː | I'm just looking. | |
| ɑlə̌mə̌rə̌d nəg ʤiŋ n hədiː be? | How much do apples cost per jin? | |
| nəg jiŋ n xɔjə̌r jɔːs tɑbə̌n mʊː | One jin is two yuan and five mao. | |
| tɑː xədiː ɑbə̌x be? | How many do you want? | |
| oːr juː ɑbnʊː? | Do you want anything else? | |
| oːr im ɑb gue | I don't want anything else. | |
| biː jurʤ ɑbjɑː | I'll get some tangerines. | |
| ʧi idə̌ʤ uʤ | Have a taste. | |
Dialogs
One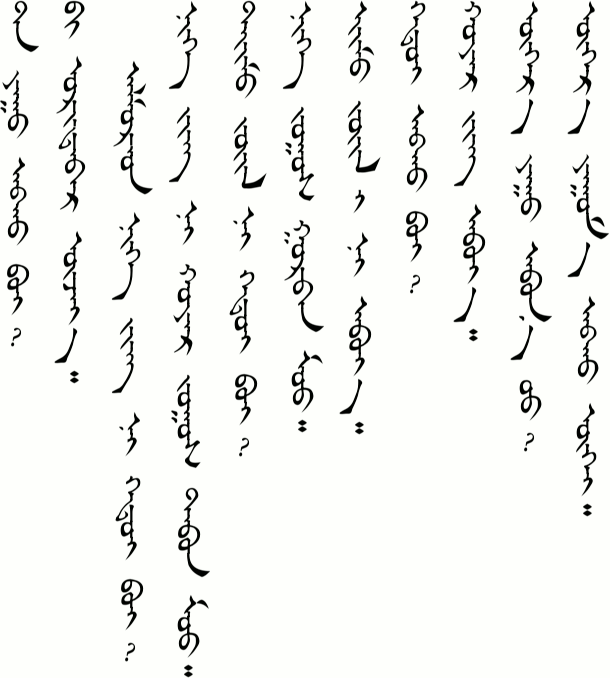 Beginning with this lesson I will no longer add the phonetic transcription to the dialogs. Focus on reading the traditional script and listening to how things are pronounced in the recordings.
Two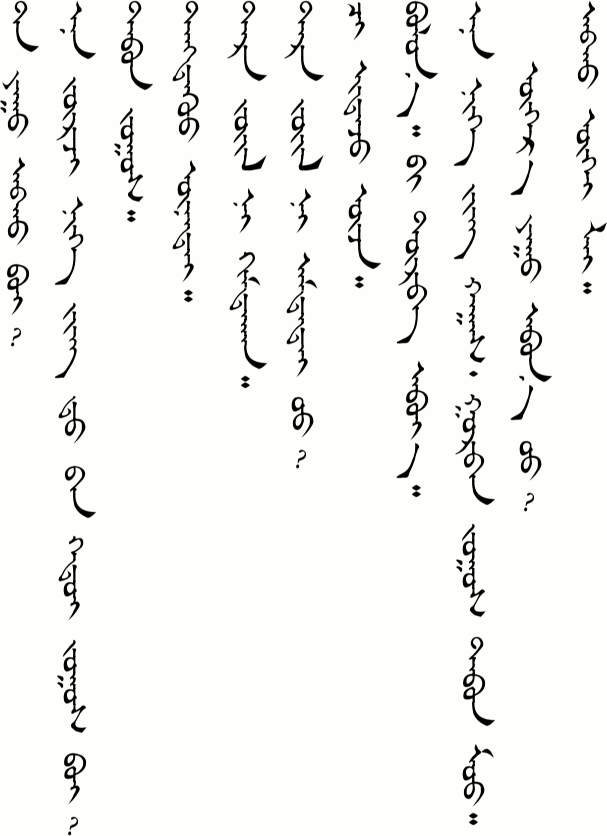 Notes
I think a lot of people say pingguo (the Chinese word for apple) rather than ɑlə̌mə̌rə̌ld, but I'm not completely sure. All the tutors I have had have been consistent about one thing. They don't like to use Chinese words when they are teaching me Mongolian. I want to speak like people do in everyday life. I think it is natural that Mongolian should borrow words from Chinese since Chinese is spoken by almost everyone. (What would English be without borrowed words?) But I think Mongolians are afraid of loosing their mother tongue and feel bad when they don't know or use the Mongolian word. The older generation scolds them for using Chinese words when they talk. Tongliao Mongolians are also looked down on because they use more Chinese words in their sentences that other Mongolians. I guess I'll just learn the pure Mongolian way of speaking first and then pick up the common ways of saying things as I listen to people talking.
As I understand it the grammar particle lei word in the last sentence signifies a change. She already got some tangerines, but now she doesn't want anything else. For those of you who know Chinese, I think it is used similarly to the Chinese 了 as it is used in 不要了.
Substitution
One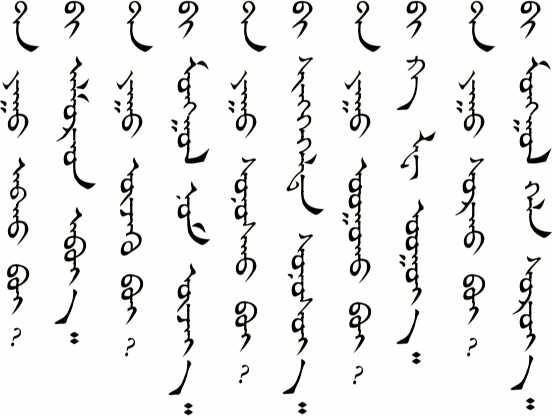 Two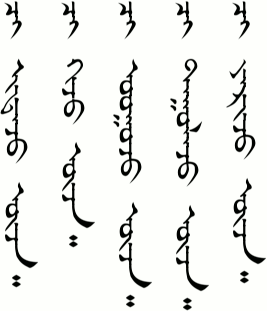 Three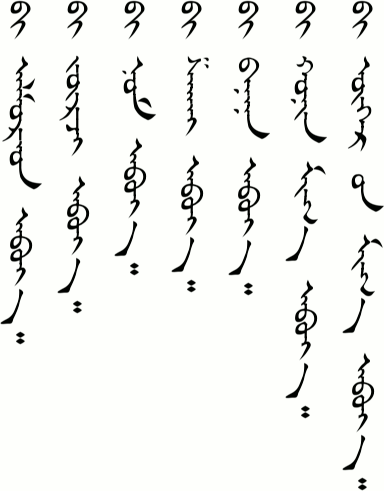 Notes:
Modern words like cola just don't exist in Mongolian and so we see it borrowed from Chinese here, kele 可乐.
In Substitution 2 we see the word uʤ. It literally means "see" but here it is used to mean "try."
Expansion
One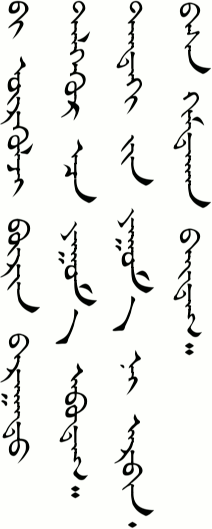 Two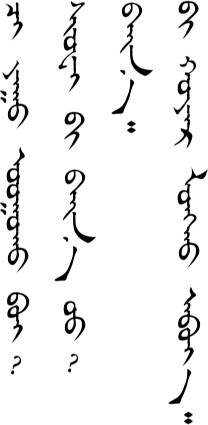 Notes:
Xuebi (雪碧) is another word that can't help being borrowed. It is the Chinese for Sprite.
Notice that /ɑbjɑː/ (the last word) can also be pronounced /ɑbiː/.
Vocabulary
| | | |
| --- | --- | --- |
| ʊrdɑːr | | first |
| ɑlə̌mə̌rə̌d | | apple |
| xədiː | | how much, how many |
| ʤɔːs | | money |
| mʊː | | mao (one tenth of a Chinese yuan) |
| oːr | | other |
| ʤurʤ | | tangerine |
| tiːm | | that |
| ʤuil | | kind |
| iːm | | this |
| dəŋduː | | too |
| unteː | | expensive |
| xæmtxə̌n | | cheap |
| ɑmttæː | | delicious |
| leː | | grammar particle |
| ʃiŋgə̌ld |   | recording |
| kələ |   | cola (from Chinese 可乐) |
| dʊːl- |   | to sing |
| jær- | | to speak |
| uʤ- | | to see, to try |
| ʃɑxɑi | | shoes |
| bɑnɑnɑ | | banana |
| xœnə̌n mɑx | | mutton, lamb |
| uxriːn mɑx | | beef |
| təndə̌x | | over there |
| ærbə̌n | | many |
| ʃuebiː | | Sprite (from Chinese 雪碧) |
| lɔŋx | | bottle |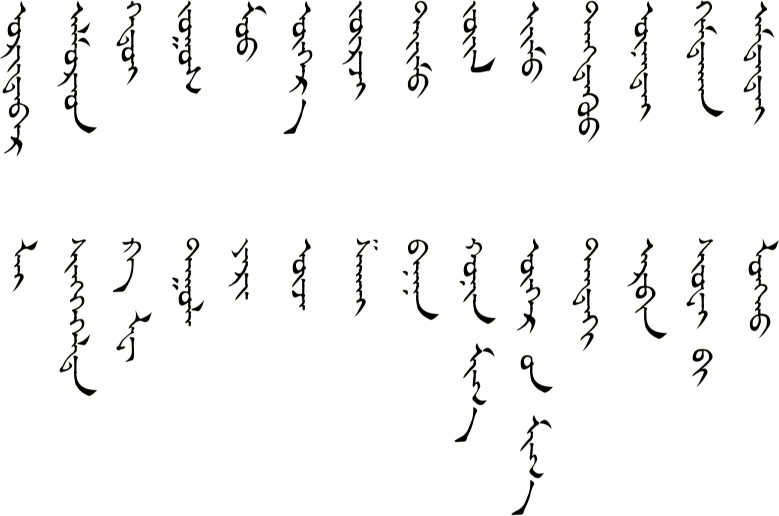 Grammar
The Tricky "Ni"
In today's lesson we saw "ni" quite a few times. It is the third word in the list below. The three are /min/, /ʧin/, and /ni/ (usually pronounced /n/).

They go after the noun and in English they are usually translated "my", "your", and "his/her/its" respectively. However, Kullmann and Tserenpil in Mongolian Grammar say that they shouldn't be considered possessive pronouns, but rather expressing the relationship between the noun and the person (p. 106). Don't ask me what that means. I thought that's what a possessive pronoun was for.
We saw ʧin all the way back in Lesson One as "tɑːnæː ɑːb əːʤ ʧin sæːn ʊː?" The ʧin seemed kind of redundant to me because tɑːnæː already means "your." I guess that's where "expressing the relationship" comes in. Anyway, in today's lesson in Dialog One we had "ɑlə̌mə̌rə̌d nəg jiŋ n hədiː be?" I understand that it means "How much is one jin (half a kilogram) of apples?"  but I'm having trouble grasping what the "ni" is referring to. It connects "one jin" with a his/her/its. Whose "one jin" is it? The apple's? The fruit seller's? Or the pile of fruit from which it came? I'm leaning toward the latter, but I will need to update this later with a better explanation and more examples.
Practice
How do you say the following words:
money
tangerine
how much
other
expensive
cheap
delicious
speak
sing
mutton
beef
How do you say the following sentences:
How much do apples cost per jin?
What would you like to buy?
How many do you want?
I want five.
Do you want anything else?
I don't want anything else.
What do you want to drink?
I'll have a Sprite.
Try to sing.
I'd like some beef.
Review by saying the following:
How are your parents?
I'm not busy.
Is she a teacher?
I'm going back home.
How many people are in your family?
I study at Inner Mongolia University.
I get up at 6:30, too.
Let's have breakfast at 7:30 in the morning.
I don't know.
Excuse me, where is the post office?
Go straight.
Where can I get on the Internet?
If you were able to say most of these things correctly then you are ready to go on to Lesson 12. If not, then keep practicing! You can also download the audio for the whole lesson so that you can practice listening on your flight to China. Just right-click the link below and choose "Save Link As…" to download.

If you have any questions about this lesson or if you notice a mistake, then please leave a comment below. If I don't know the answer myself, then I will ask our teachers.