Lesson 1
Suggested Study Method
Besides the key sentences, most of the dialogs below do not have English translations. Don't let that scare you off. Listen to the dialog first and then find the new words in the vocabulary section towards the end of the lesson. Then go back to the dialog and listen again. The word order will be different than English, but you should be able to figure out the meaning. If you really can't figure it out, then ask me in the comment area at the bottom of this page. Also leave a comment if you find (or think you have found) a mistake. I'm sure there are a few!
After you get through the lesson, then try to say the words and sentences that are in the practice section. If you have trouble with them then go back to the section of the lesson that talks about it. Some of the practice sentences require you to make new combinations that were not precisely in the lesson. Do your best to guess how you would say it. If you are unsure then leave a comment.
Review is very important for retaining what you have learned. At the very end of the lesson there is a place to download the audio for the whole lesson. Listen to old lessons throughout the day while you are doing other things. Don't just listen mindlessly, but actively think about the meaning of what you are hearing. There is also a great flashcard program called Anki that uses spaced repetition to review and teach vocabulary. When I finish making some decks I will put them up so that you can use them, too.

Key Sentences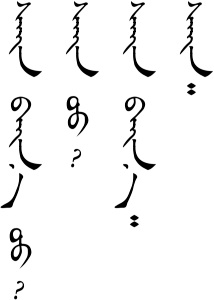 | | | |
| --- | --- | --- |
| sæːn bæːn ʊː? | How are you? |    |
| sæːn ʊː? | How are you? |    |
| sæːn bæːnɑː. | I'm doing well. |    |
| sæːn. | Good. |    |
Dialogs
One

A:     sæːn bæːn ʊː?
B:     sæn. tɑ sæːn bæn ʊː?
Two

A:     sæːn ʊ?
B:     sæːn. sæːn ʊː?
Notes
"sæːn bæːn ʊː?" literally means "Are you well?" It is the most common way to greet someone in Mongolian. It is like saying, "Hello," or, "Hi. How's it going?" in English.
The subject (you) is commonly omitted. However, B in Dialog 1 adds it. "tɑ" is the polite way to say "you". Since we are just beginning, we will error on the side of politeness by using "tɑ" in most of our dialogs.
If it appears that the IPA symbols in the dialogs are not displaying correctly, you may need to install a Unicode font on your computer. You can get directions here. If the traditional (vertical script) Mongolian does not display you may need to update your browser to a version that supports svg images.
Substitution

________ sæːn ʊː?
tɑː
tɑːnə̌r
tɑːnæː ɑːb əːʤ ʧin
Expansion
One

tɑː sæːn ʊː?
sæːn bæːnɑː
tɑːnæː ɑːb əːʤ ʧin sæːn ʊː?
sæːn bæːnɑː
Two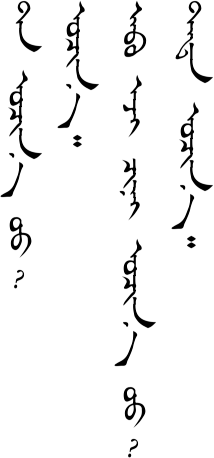 tɑ ɔʧn ʊː?
ɔʧnɔː
ɑːb əːʤ ʧin ɔʧn ʊː?
təd ɔʧnɔː
Notes:
The subject pronouns (I, you, your, they) are optional when they are understood.
Vocabulary
sæːn

good
bæːnɑː

have, be
ʊː

question particle
tɑː

you (polite)
tɑːnə̌r

you (plural)
(That's "y'all" for all y'all Texans out there.)
tɑːnæː

your (polite)
ɑːb

father
əːʤ

mother
ʧin

your
təd

they
ɔʧnɔː

go
Practice
How do you say the following words:
good
father
go
mother
you
they
your
How do you say the following sentences:
Hello.
How are you?
I'm fine.
How are your parents?
They're doing well.
Are you going?
Are your father and mother going?
If you were able to say most of these things correctly then you are ready to go on to lesson two. If not, then keep practicing! You can also download the audio for the whole lesson so that you can practice listening while driving to work. Just right-click the link below and choose "Save Link As…" to download.
Main lesson 1



If you have any questions about this lesson or if you notice a mistake, then please leave a comment below. If I don't know the answer myself, then I will ask our teachers.